Rotofugi
always has some interesting shows in their gallery, and this certainly should continue that perception. STENCILS! They've grown hugely popular in the last several years thanks to artists such as
Blek la Rat
and
Banksy
. This time around, the folks at Rotofugi are bringing in three artists to show us some of their creations. Some examples I've seen from these artists have me excited for the opening reception, and if you're a toy collector that hasn't been to the shop yet, you'll likely wet your pants, so don't miss out.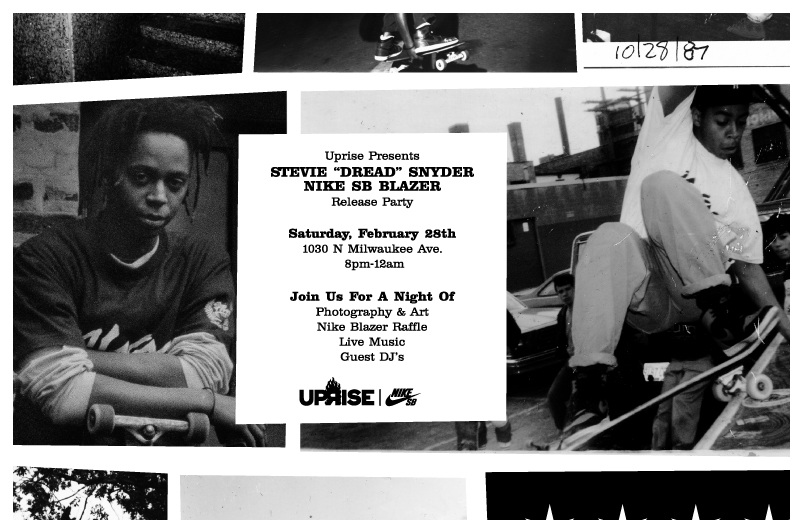 I love sneakers. I don't claim to be a collector, because it can get expensive and quite frankly, as much as I love all the creative releases, I buy them to bless my feet, not the box they came in or some shelf in a closet. With that said, I try to stop by
Uprise
on occasion to see what they have in stock, and I always see Stevie "Dread" Snyder behind the counter. Now, I've never been a skater, nor have I really followed the sport (I just love the shoes!), so little did I know that Mr. Snyder was some what of a Chicago celebrity.
Nike SB
collaborated with him in designing a new colorway for some upcoming Blazers (pictured above) set to release very soon. In fact, to celebrate, the folks at Uprise are hosting a release party Saturday for the occasion. Their mentioning a night of art, live music and a Blazer raffle. This should be interesting, so haul yourself to Bucktown Saturday night between 8p-12a and support the cause!